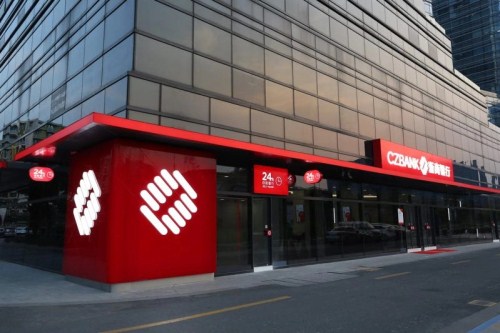 File photo of China Zheshang Bank [Photo provided to chinadaily.com.cn]
China Zheshang Bank Co is using big data and blockchain technologies to introduce more innovative financial services, aiming to promote intelligent transformation via digitalization among small and medium-sized enterprises.
Many private companies remain concerned about the risks related to such changes, said Wu Jianwei, vicepresident of CZBank. The Hong Kong-listed national joint-stock commercial lender is headquartered in Hangzhou, Zhejiang province.
The investment involved is huge, and the transformations have to be customized and constantly upgraded, he explained, while customers and providers of intelligent manufacturing solutions are reluctant to cooperate due to the lack of mutual trust.
In Xinchang county in eastern Zhejiang, the majority of over 600 local private SMEs are considering intelligent transformations, but many have reservations about using unfamiliar intelligent manufacturing solutions provided by the local company Zhejiang Toman Intelligent Manufacturing Technology Co.
At the same time, Toman has concerns about the creditworthiness of these small businesses, asking them to pay before providing its services.
To break the deadlock, CZBank agreed to pay a default penalty on behalf of either party if it fails to uphold the business contract. The bank would recover its costs later from the defaulting party, whose credit report would be updated if it fails to make a repayment.
"Adopting this model, Toman has helped more than 110 downstream bearing manufacturers to complete intelligent transformation of 10,000 pieces of equipment. After their transformations, these companies have saved half of their labor costs on average and increased their production capacity by 20 percent," said Yu Chaojie, chairman of Toman, at a news conference last week.
CZBank has now gained access to a crucial part of Toman's online data about its customers and their equipment. The two parties have formed a team to conduct research into effectively managing risks in a timely manner by using big data, including that related to equipment conditions, production capacity and energy consumption.
To deal with the lack of trust between intelligent manufacturing service providers and customers, CZBank used blockchain technology during its research into supply chain finance.
The bank granted lines of credit to downstream SME clients of Zhejiang Rifa Textile Machinery Co, a spinning and weaving machinery manufacturer, based on Rifa's creditworthiness, to cover funding gaps on their equipment purchases.
These companies will receive their equipment after paying front money to Rifa. To ensure they pay the remainder, they will sign an agreement with the manufacturer using an online service provided by the bank, which adopts blockchain technology to record the deal securely.
Rifa is allowed to convert this agreement - an alternative type of bills receivable - into cash or to make a payment to its suppliers with it, with no need to worry about its downstream client defaulting on a payment.
This innovative financial service has helped over 100 private textile companies to upgrade their equipment and has increased Rifa's sales revenue by 300 million yuan ($43.55 million). Compared with collateral loans backed by a company's equipment, this service has lowered Rifa's downstream enterprises' financial costs by about 20 percent, according to CZBank.
Yan Huaibin, general manager of the bank's corporate banking department, said: "We embedded risk management in our financial products for corporate clients. Instead of simply controlling the risks of a single company, we are trying to join the company and its upstream and downstream companies together for better risk management."